Corporations and Businesses
The "Just To Be Sure" way to Protect Your Organization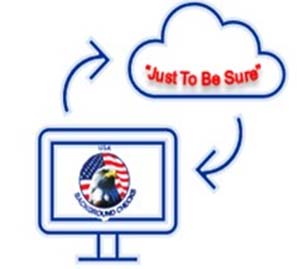 You don't need a magic wand or be Superman to protect your company. When screening your candidates USA Background Checks, helps you protect your company and every person in it. Every time you utilize USA Background Checks resources to screen potential or existing employees it helps to prevent fraud, abuse and dangerous behaviors within your organization that has the potential of stopping your entire operation in its tracks. With our dedicated support team, accurate results, easy to read reports, and a user-friendly platform that integrates most applicant tracking systems, protecting you, your organization and the people who keep your company going strong is simple.
Person Search (SSN Trace)                                        

National Criminal Records Search                           

County Criminal Records Search                              

State Criminal Records Search                                   

Federal Criminal Records Search   

Global Homeland Security Search
Non-DOT Screening

DOT Screening

Hair Follicle Drug Screen

  

Breath Alcohol Test
Professional License Verification

Education Verification

Employment Verification

Employment References

Personal References
USA Background Checks Corporate Screening Services and our "Just To Be Sure" motto helps provide your hiring team with the reassurance of knowing their candidates.
Companies who hire quality candidates to work within their organizations, are tasked with plenty of challenges when choosing the right candidates to fill the multiple positions available within a company, even more challenging can be searching for the most dependable and trustworthy candidates to place within your organization's upper management positions, reviewing someone's resume and talking with a person during an interview.  A candidate who feels as though they may have something to hide about their past, aren't always going to provide your hiring team with all the information about themselves and could only be providing you with portions of the truth about their criminal backgrounds. This is when our company USA Background Checks steps in and helps by providing your team with thorough criminal background checks.
We have designed our background check services to make it extremely easy for companies to know which candidates could pose potential threats to a company's brand, assets, and their people. We look for the red flags in your candidates' background checks and provide you and your hiring team with easy-to-read reports.
What can USA Background Checks learn about your candidates?                       
It's entirely your choice!  We'll collaborate with you and your HR department to create a one-of-a-kind custom background screening package that lets you properly vet candidates for each of the unique job functions you're looking to hire for. 
Some of our most popular background screening services find records of criminal activity, false education histories, fabricated job histories, and unacceptable levels of substance use. All reports are hands-on verified and FCRA-compliant, keeping your HR department feeling more comfortable in their hiring decisions and you get the reassurance of knowing your organization is in good hands as you continue focusing on all the other important aspects of running your company.
Let us help you build a free, custom background check package designed specifically for your needs!
---
By submitting this form, you are consenting to receive marketing emails from: . You can revoke your consent to receive emails at any time by using the SafeUnsubscribe® link, found at the bottom of every email.
Emails are serviced by Constant Contact
In a hurry?
Choose from one of our ready-to-order packages.